Help Home Families
• Earn Passive Income of 5.00% - 8.00% APR
• Co-Fund Loans from 3 – 36 Months
• Benefit from 133% Anticipated Collateral Cover
At Initiative Ireland we believe that finance should be honest, fair and inclusive. We also believe that investments should offer competitive returns and security but also deliver clear societal and environmental impact.
That's why we work with our Impact Investor Community, to co-fund property development loans across Ireland, helping to tackle the housing crisis and address environmental challenges. Together we finance the delivery of energy-efficient social housing and affordable housing projects nationwide. We lend to both experienced property developers and approved housing bodies. As an Impact Finance Specialist, we offer fair terms to our borrowers, advisors and impact investors community alike.
All loans are secured against Irish Property, typically providing a minimum of 133% collateral security to secure each loan. Our specialist team manages all loans from end-to-end, in an ethical and professional manner. Our shared goal is to tackle the housing crisis and to empower our clients to, 'Earn Good, Do Good'.
Call our team Monday to Friday (9:00 am to 5:30 pm) on:
+353 1 6859259
What type of lender are you?
Initiative Financial Services
Initiative Ireland enables our corporate and pension clients to invest in property-backed loans. Since launching in 2015, the company's investor community has supported the construction of over €100m in social, affordable and mid-market housing projects across Ireland. Learn More...
Local Knowledge & Experience
Initiative Ireland was founded in 2015 by a team of experienced, proven finance professionals who had a shared vision of delivering positive societal and environmental impact through financially inclusive and fair services.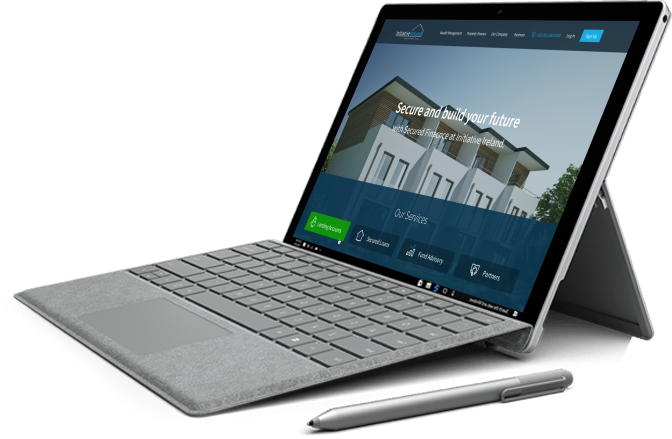 Trusted Knowledge & Industry Experience
Initiative Ireland operate Ireland's largest Secured Property Lending Marketplace
€50,000,000+
New Housing
Projects Supported
We are committed to protecting our clients. That's why we work with trusted partners, to deliver services that meet the highest standards.

Funds & Payments
All payments and funds are held and secured by our regulated payment partner, Mangopay, which is approved as an electronic money institution by the Financial Sector Regulator (CSSF), Luxembourg, protecting your funds from end-to-end.

Loan Security
All loans are secured with a first legal charge over the underlying property financed. This security is held for the benefit of the syndicate by Initiative Ireland Nominees Limited, which is authorised by the Department of Justice and Equality of Ireland as a Trust and Company Service Provider.

SSL Encryption
We adhere to best practice standards for digital security and use symmetric 256-bit encryption, certified by DigiCert one of the world's leading providers of high-assurance digital certificates, to protect your information.

Data Security
Initiative Ireland is committed to protecting your information. That is why we are a Registered Data Controller registered with the Data Protection Commissioner of Ireland, registration number 16237/A. We manage your data in compliance with the Data Protection Act (1998, 2003, 2018) and the European Union e-Privacy directive (2011).